What would it be worth to you to have your own money making newsletter ready to go, 2, 4 or even 8 years in advance (based on your publishing schedule) with absolutely no writing on your part?
If you just can't stand the thought of long days and nights trying to produce content that may or may not produce any kind of sales, this is exactly what you've been looking for.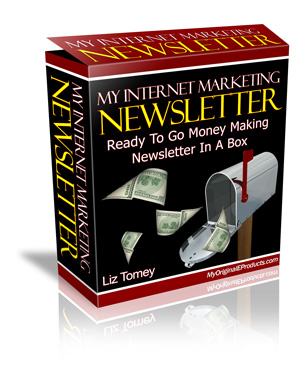 Never before has their been a pre-made, 100% ready to go newsletter that you can just plug in, walk away from and forget while it generate profits for you.
So, Does This Incredible Amount Of Pre-Made Content Cost So Much That Average People Like Me Can't Afford It?
No way!
The whole reason for this system was to make it possible for regular people to start getting their piece of the newsletter publishing pie.
Of course, I could easily charge several thousands of dollars for this content because a quality article on a site like eLance costs $30 and up on the low end and that means you're getting a minimum value of $3,000 in content.
The eLance writers won't come up with the ideas for you either! I've also come up with 100 extremely hot and relevant topics that will establish you as an immediate expert! That's a priceless addition.
But keeping with my intention to make this affordable to everyone trying to make it with their own online money making newsletter, the cost is only going to be $97!
That means for less than a measly 100 bucks (Read on for your special price for TODAY!) you can say goodbye to your newsletter publishing and writing woes for good!
This is a small sum to pay, to start finally taking steps towards getting your business going and starting to live the work at home lifestyle! $97.00 is really a painless drop in the bucket ( Remember, you are getting a special price TODAY!) to be able to get your hands on "My Internet Marketing Newsletter" and start using it right away to improve your lifestyle!
You Really Can't Afford Not To Invest In "My Internet Marketing Newsletter".
WAIT!
Let me make this an even more special offer: Would you like to have resell rights to the "My Internet Marketing Newsletter" ? You'll be able to sell "My Internet Marketing Newsletter" to your customers and keep 100% of the profits. Your resell rights come with a complete website, sales letters and professional graphics for you to promote the "My Internet Marketing Newsletter" with.
You'll have your own product that you can sell to YOUR customers and keep all the profits! There is no additional charge for the resell rights. It's included in your one time payment of just $97!
For a very limited time you can get the "" video course for the Low Introductory Price of just…$97.00 $17.00! Just click on the order button below to gain instant access…
ORDER YOUR Money Making Newsletter In A Box HERE:
http://www.cashquest.com/marketingnewsletter/default.cfm?id=34146
To Your Success,
Bill Darton
*EARNINGS DISCLAIMER: Results are not typical. Your results may vary. We make no claim that you will earn any income using the money making newsletter in a box whatsoever. Where specific figures are quoted from individuals there is no assurance you will do as well. You must assume the risk that you will not earn any income from this product.